To transform our client's vision into reality utilizing innovative, integrated and sustainable design solutions while embracing a common sense approach with practical imagination.
To develop longstanding relationships that endure generations where:
TRUTH is a must
TRUST is earned
VALUE is delivered
SP Design Group Architects and Engineers, Inc. has been providing professional services throughout the southeast for more than five decades.  Since the firm's inception in 1963, we have been known for our ability to deliver a project on time and on or under budget.  This unique talent to manage a client's finances while providing a well-coordinated, quality product has enabled our firm to enjoy many long-term relationships.  In addition, our ability to deliver design solutions on an aggressive schedule has added even more value to the services we provide.
SP Design Group Architects and Engineers, Inc. is led by four principals.  Our staff includes registered architects, registered engineers, architectural/engineering interns, an office manager and employees who serve in multiple support roles.  The average yearly volume of construction value generated by our firm has been approximately forty-million dollars.  We are fortunate to have a highly skilled and seasoned group of professionals with expertise in a variety of disciplines.
We have an in-house engineering department that not only provides invaluable coordination amongst the numerous consultants but assists the project architect with systems integration.
 SP Design Group Architects and Engineers, Inc. takes a common sense approach to design concerning systems and materials used.  All of the buildings we design can be categorized as high-performance buildings.  We take very seriously the use of materials that are both sustainable as well as easily maintainable.  Over the years, we have conducted a vast amount of research concerning materials being used in the industry. This research has enabled us to specify materials and systems that not only perform for the long term but represent smart, economically sound design practice.
Our volume of work coupled with our repeat clientele, demonstrates our ability to deliver successful solutions, making us a leader in the industry.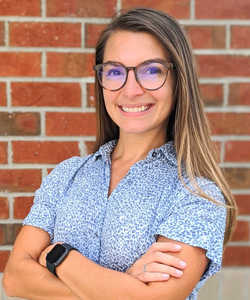 Hailey Henderson
Marketing Coordinator
Bachelor of Science, Media & Communications,
Middle Georgia State University